Interactive Video Innovator VERB to Ring the Nasdaq Opening Bell this Friday
VERB Technology Company, Inc. (VERB), a leader in business-focused interactive video, the pioneer of Augmented Sales Intelligence software, and esteemed partner of JSA (and in full disclosure, our CEOs are married to one another too!), recently announced it's listing on the Nasdaq Capital Market, and will be ringing the Nasdaq Opening Bell this Friday, April 12, at 9:30 AM ET. The exciting event will be streamed live at 9:30 AM ET. Check it out and see Rory and Jaymie Cutaia there at Nasdaq!
A few other VIPs joining them on the stage will be the entire VERB management team — as well as the three lucky VERB stockholders: Christi Logan from West Palm Beach, Florida; Eric Eberhardt from Fairfax, Virginia; and Mike Simon from Rochester, Michigan. All three just won VERB's 'Take Me to Nasdaq' video challenge.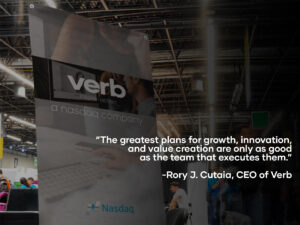 In the social challenge, stockholders were encouraged to download TaggCRM, the company's mobile app, an interactive video-based sales, and marketing tool, and use it to create and submit an interactive video explaining the reason they should be chosen to join the VERB management team on the Nasdaq podium for the opening-bell
ringing ceremony. As winners, Christi, Eric, and Mike will be treated to round-trip airfare to and hotel accommodations in Times Square in New York City for Friday's big event.
"Last year we set a goal to list our securities on Nasdaq," states

Rory J. Cutaia, VERB CEO

. "This week, I'm proud to say, we achieved that goal. But it was not something we accomplished alone. It was the unrelenting, never-give-up perseverance of our dedicated team of talented professionals and the support of our loyal stockholders, whom I have always thought of and referred to as our co-owners. And as co-owners, I wanted to devise a way for some of them to share with us the extraordinary experience of ringing the opening bell on Nasdaq. The videos we received from our stockholders were imaginative, funny, moving, and most of all, reflected the fact that what we have achieved, and what we have yet to achieve, we will do together."
Also big news, VERB announced today its new agreement with the National Association of Health Underwriters (NAHU), a non-profit professional association, to utilize VERB's interactive video technology for its member recruitment and retention campaigns. Another successful and happy customer on the VERB roster!
Congratulations to VERB on these amazing accomplishments! Be sure to tune in this Friday to be part of the excitement- and see this once-in-a-lifetime moment for Rory, Jaymie and the VERB family!
And lastly, to quote VERB's CEO, Rory Cutaia, "to all the dreamers and game changers…welcome to Nasdaq!"